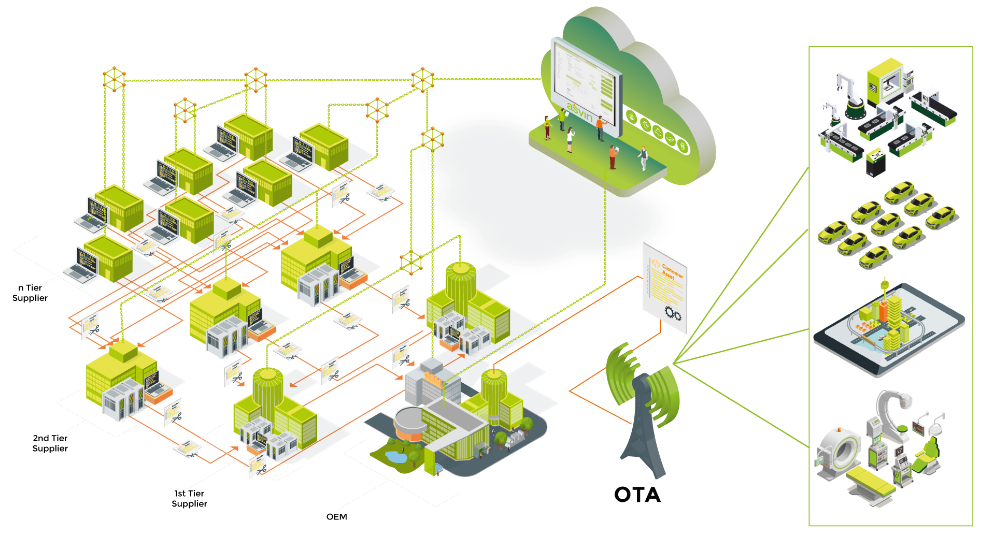 All you need to track and trace the integrity and provenance of software supply chains and get regulatory compliance
IoT is a Hot Mess
IoT devices are a critical component of our connected world, but IoT devices are equally vulnerable as they are useful. Cyberattacks are scaling in tandem with the widespread deployment of digital assets. Operating these IIoT devices on a 'set and forget' principle, with their default passwords makes IoT devices 'low hanging fruit' for hackers with the potential of being taken over by rogue interests and turned into a devastating army of botnets.
With our tools Trackhound, PawPrint, EagleEye and AntStreet you get all the tools you need to secure the entire software supply chain from development towards CI/CD pipelines, to over the air updates tailored to your needs. – All combined in BeeHive a central toolbox.
Keep an eye on risks, threats and match with CVE Librarys
asvin's Eagle Eye renders continuous monitoring of IoT device fleets. Using advanced machine learning analytics (AI) and graphbased risk analyses.
asvin's Eagle Eye also provides anomaly detection to ensure network and individual registered device integrity.
In the event of a cyber-attack or operational dysfunctionalities, Eagle Eye's risk management and alarming protocols are triggered and support counteraction including isolation of vulnerable devices.
Eagle Eye ulfills ISO/SAE 21434 industrial cybersecurity standards.
FEATURES:
Device Attack Monitoring
Integrity Monitoring
Security Monitoring
Graphbased Riskmanagement
CVE matching
Generate imutable Software Build of Material (SBoM)
FEATURES:
Distributed Software Bill of Materials generation (SBoM)
Integrity Resilient infrastructure for providing SBOMs
Immutable storage of information, protected from manipulation by cyberattacks
Software Supply Chain Tracking and Management
asvin Trackhound brings transparency into the software supply chain. From initial device installation and software deployment, subsequent OTA updates, and security patch distribution to forensic audits.
Track the History of your CI/CD Pipelines along the Software Supplychain.
Trackhound allows developers and architects to increase network security and ensure software integrity.
Track and trace the entire software supply chain and lifecycles of IoT device fleets and assets.
FEATURES:
Software Supply Chain License and Version Management
Software Supply Chain Monitoring
Supplier Risk Analytics
CS/CD Pipeline history
Software Provenance
Dependency Management
Simply manage your Assets/Fleet and OTA Updates
asvin Ant Street plan, schedule, and rollout distribution of updates and security pachtes to IoT device fleets via asvin's cryptographically secure and distributed just-in-time by decentralized technology (DLT).
Updates are cascaded to the right device within predetermined schedules maintenance windows. asvin's Ant Street supports OTA updates for IoT-specific RF protocols as LoRaWAN, 5G, NB-IoT, WLAN and LAN to name just a few.
FEATURES:
Update and Patch Distribution
Device Management
Software Asset Management
Device Fleet Management
API interface to OTA platforms