One of the most important trade shows for IT security experts and asvin is there with a presentation about Data Poisoning. But before we went to stage 3 in the glass hall, networking was on the agenda. So we started early with introductions to familiar faces such as Jan Wendeburg from IoT Inspector or Sebastian Herten from Deep Instinct. We will have exciting updates for you on the IoT Inspector in the following trade fair report, but first, we looked at the current trends in IT security.
The Hannover Congress Center at the Zoo was well attended, and there were groups of people everywhere who were visibly happy about the personal exchange. There was a lot to see on more than 5,000 sqm and in 2 halls with three themed stages. Unfortunately, companies are increasingly the focus of targeted attacks and the security standards of earlier times are no longer sufficient. Small companies, in particular, often do not have the financial means to protect themselves against cyber and malware attacks. However, with Security as a Service or Managed Services, various exhibitors at Heise SecIT offer the possibility of purchasing services for more cyber security.
Penetration testers were also plentiful at the trade show, some of whom help companies deal with IT security incidents and clear up incidents by examining digital traces. In workshops, attendees could learn about damage mitigation after a security incident or modern phishing attacks. In addition, best practices were available on the stages on topics such as attacks on the software supply chain or modern approaches to intelligent identity and access management.
At the Magelan booth, we talked to Sebastian Herten from Deep Instinct and learned that DER is not enough to protect against unknown threats. Sebastian Herten is Regional Sales Manager and uses a test dashboard to show what customers can see when they use Deep Instinct's tool to quickly and effectively protect against unknown threats than any other EDR solution. What's special: Malware never runs in the environment because the self-learning AI uses big data to stop 99% of zero-day exploits in less than 20 milliseconds.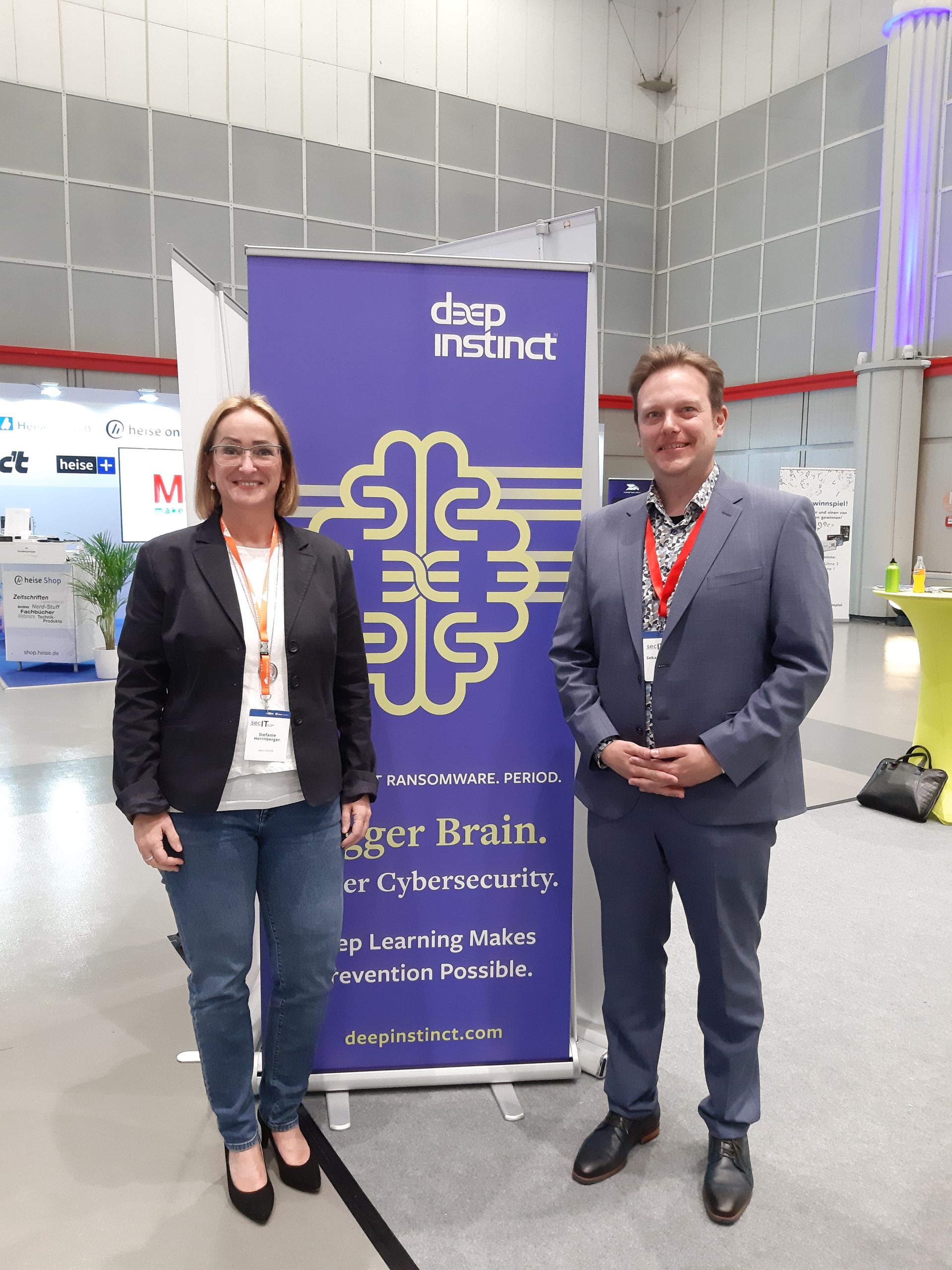 Sebastian Herten: "We offer our customers the world's highest ransom guarantee and a specially developed deep learning framework for cybersecurity. Because effective security against cyberattacks is a race against time, where we prevent threats before they can do any damage."
Time for a change of location: from the Eilenriedenhalle we move to the Glass Hall and thus to Stage 3, where Mirko Ross, CEO & Co-Founder of asvin, starts his presentation on Data Poisoning punctually at 2:20 pm. In front of a very interested audience of experts, the topic was about ways to manipulate machine learning training software to achieve false results deliberately. Attackers succeed by "poisoning" the data sets with which the AI is trained.
Mirko Ross:" The data input and the data basis for Deep Learning are exceedingly vulnerable. With my presentation, I will show the dangers through which attackers can gain access to the models and minimally change data sets unnoticed. This is because it often only takes a small intervention to misclassify a safely detected object."
The risk for AI to unintentionally learn something that was not intended is ever-present. This can lead to unauthorized people gaining access to sensitive areas or data, and a dangerous object is classified as a harmless souvenir at an airport security checkpoint.
In the IoT, microprocessors and the Internet and AI form the technical basis. The importance of IT and cybersecurity is increasing and affects almost all processes and tasks in companies and government agencies. Therefore, it is important that artificial intelligence is regulated or that defined frameworks apply to its creation and use.
This is the third time that Heise SecIT is helping to raise awareness among companies about the need for functioning and secure information technology. Cyberattacks can have real effects when the real world merges with the digital world in the Internet of Things. After the first day, the exhibitors were delighted with the response and the lively interest in the presentations and workshops, many of which were filled to capacity.