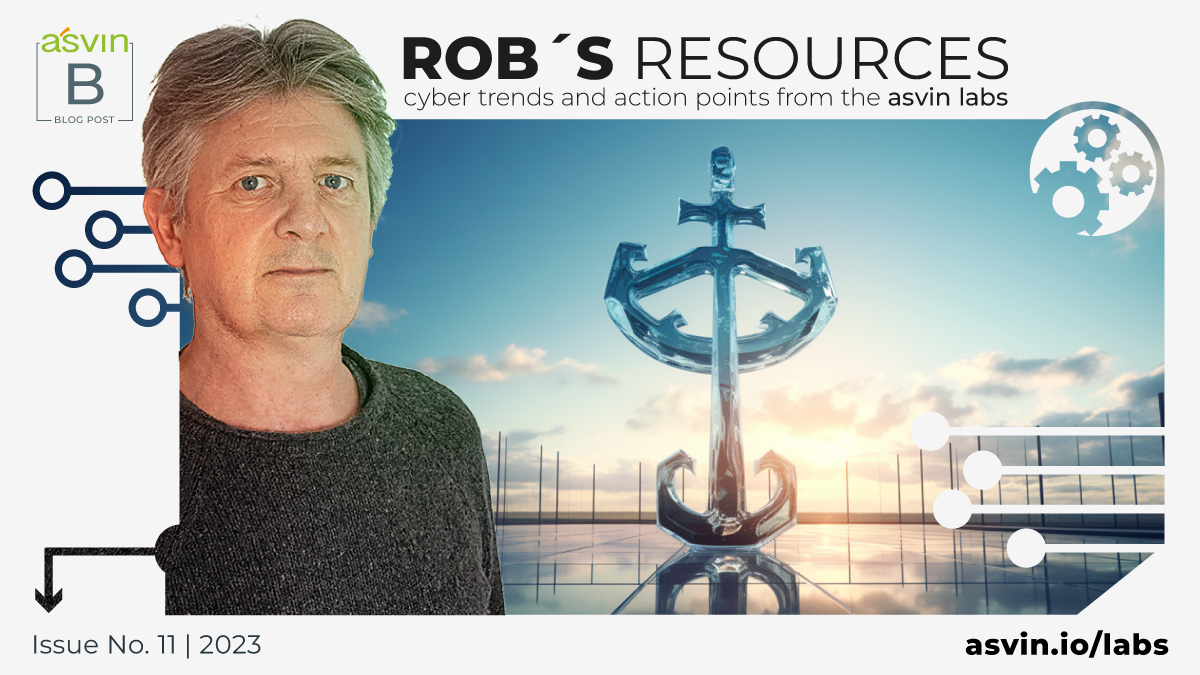 Trust anchors secure companies and societies against disinformation
There is no alternative to facts
So-called social media, because they are accessible to everyone, offer not only playgrounds for self-promotion, but also environments for political manipulation. Brexit and Trump are eloquent examples of this. At the latest since Kellyanne Conway, as Trump's advisor, wanted to make lies acceptable as "alternative facts," the playground had become a problem zone. Suddenly, democracies found themselves in a public sphere that could be controlled by autocracy and seduction. Established and consensus-based procedures for functioning polities such as independent legislatures, judiciaries, executives, and press seemed suspended. In the new episode of his Resources, Rob van Kranenburg* attributes these dislocations to the loss of so-called anchors of trust.
At a recent conference on AI organized by the Dutch police, it was said that as early as five years from now, in 2028, ninety percent of all digital data will come from synthetic data sources. To be blunt, "synthetic" does not mean that this data will thus be false or falsified. Disinformation is as old as information itself. It does mean, however, that most of the text people read on social media will be written by machines instead of humans. And that creates a problem that we have hardly anticipated to date.
In our present, the laws for a functioning polity are hidden in the formats that turn data into facts: in news, in entertainment shows, and on all the channels that shape our public perception. In these formats, it is not so much what is said that is important, but the mere fact that it is said there. This is where the trust anchor comes into play.
News especially needs it. According to Wikipedia, a trust anchor is an authoritative body for which trust is assumed, not inferred. Simply put, the "Tagesschau" is an institution. What is broadcast here is considered beyond any doubt. Thus, it is the format itself that functions as an anchor of trust. It is the authoritative authority for which trust is assumed and a chain of trust is derived.
And here's the problem: with over 70% of Belgian youth doing their news consumption exclusively on social media, traditional media's efforts to establish trustworthiness through provenance, source-to-source linking, and proof-of-origin generation, while important, are only beginning to reach the next generation of voters. If the formats themselves are no longer consumed, they can no longer act as trust anchors.
So we should develop and build new trust anchors in social media. And we don't do this by dealing with trust anchors that seem to be working and developing yet another new channel or creating yet more personas. But rather by working intensively on rebuilding trust chains. This could also succeed if we take the trust anchors from the book and news generation into new formats that go beyond social media. Both are an important and deeply democratic necessity. For we need said tools, developed over centuries, to create shared situational awareness. Without collective consciousness, a functioning coexistence with rules for taxes or decision-making becomes impossible. And if these instruments are in rooms that no one opens anymore, they are irrelevant. So trust anchors need to be embedded in the new formats of information exchange.
Attempts to create these new formats and trust anchors are already taking place. Data journalism tools are being coupled to provide deeper research, clearer analysis, more accurate statements. Berlin-based codepan.com has developed a so-called AI OS that could be used for such couplings. Asvin's press officer Konrad Buck has started a project for this with several journalists and with codepan. In our opinion, data journalism can experience a renaissance through the use of AI, providing sound decision support, presenting highly complex contexts in a clear way, in the end perhaps even offering automation of decision making for citizens, politics and business, i.e. going in the direction of BI, with freely configurable dashboards for sourcing, circularity or conflicts.
This is definitely the future of news in terms of providing accurate data that enables decisions at different levels: Health, Home, Mobility, Neighborhood/City. Successful digital transformation will lead to productive feedback on our physical and mental integrity, the best possible deals based on real-time monitoring for resource allocation, the best possible policy-making based on real-time data and information, and the best possible alignment between local providers and the enormous potential of larger global communities. At all these intersections, new trusted gatekeepers are needed to create configurable dashboards that are so hyperlocal and personalized automated that data journalism seems more like a trusted companion.
*: Rob van Kranenburg has been active in the European R&D scene for a good 20 years and is very well connected. For asvin, as Chief Innovation Officer, he leads the coupling between market requirements and the results of the asvin labs. His resources perceive trends in the cyberspace at an early stage and provide recommendations for action in future markets.
The future of cyber security is being researched in the asvin labs. Cybersecurity as a whole must become simpler and more practicable. Therefore, there is a strong focus on the analysis of contextual information in order to make complexity and its risks manageable.